ASI, RVC and the Skolkovo Foundation will create new national and international technology competitions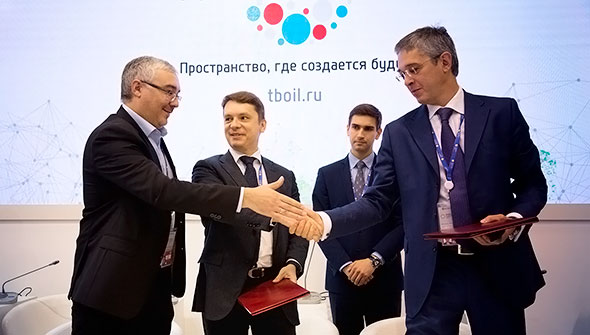 On June 2, at the St. Petersburg International Economic Forum, the Agency for Strategic Initiatives (ASI), the Russian Venture Company (RVC) and the Skolkovo Foundation signed a cooperation agreement on organization and holding of the national technology competitions (NTC) within the framework of the National Technology Initiative (NTI). The parties agreed on organization of new national and international competitions as well as on assisting the Russian teams to participate in the events held abroad.
Technology competitions are targeted at forming a model of an expert search for global technological barriers, the overcoming of which will lead to creation of the breakthrough technologies. Such competitions will also allow focusing the attention of the best engineering and scientific personnel on research in the areas necessary for the development of the NTI markets. The participants will be representatives of the scientific, engineering and business community.
The logic of the competitions is to develop and create the solutions for the customer companies, which are facing the task of forming technological breakthroughs in various industries. Participants-innovators undertake to solve the set tasks, but, at the same time, bear the initial costs and risks. Examples of such competitions are the international events at the level of the Spectrum Collaboration Challenge, Cybathlon, and XPrize. Thus, for example, the task of the XPrize competition was creation of the software that allows children of developing countries to learn to read, write and arithmetic using the artificial intelligence technology. At Cybathlon competition, the development of motor systems controlled by neuro interfaces was presented - they are used by people with limited locomotor functions. The prize funds of the largest international competitions amount to millions of US dollars.
The document signed by the ASI, RVC and the Skolkovo Foundation involves joint compilation of the terms of reference for the competitions, the prize fund, expert panels and the jury. The parties plan to involve their industrial partners – major companies and organizations that are potential customers and consumers of the new technologies in organization and holding of the NTC, including the formulation of their target tasks. The ASI, RVC and the Skolkovo Foundation will provide their infrastructure and the necessary equipment for holding the competitions.
Dmitry Peskov,
Director of the "Young Professionals", Agency for Strategic Initiatives
«Each competition attracts much more investment in the development than the prize fund amount spent. The current interdisciplinary tasks of high complexity are resolved by the researchers right before our eyes. These competitions simultaneously overcome the technological, social and communication barriers.»
Dmitry Peskov,
Director of the "Young Professionals", Agency for Strategic Initiatives
Александр Повалко,
генеральный директор РВК
«The NTC tasks will be compiled jointly by the development institutions and corporations, which will act as customers of the breakthrough technologies of the international level. To successfully hold the competitions, the RVC is ready to provide a range of its tools for working with large businesses and technology entrepreneurs including the resources accumulated during the federal startup accelerator GenerationS.»
Alexander Povalko,
RVC CEO
Igor Drozdov,
Board Chairman of the Skolkovo Foundation
«Choice of the key technological problems and providing the necessary support for solving them is one of the most important tasks of the entire innovation system. As the world experience shows, the technology competitions aimed at achieving the "limiting" results have proved their effectiveness. In the context of this agreement we offer a possibility not only for holding the NTC in our country, but also for the participation of our best teams in the international competitions. We hope that the teams - NTC winners will become the technological leaders, and the competitions - social and technological "elevators" for the developers.»
Igor Drozdov,
Board Chairman of the Skolkovo Foundation