RVC and Republic of Korea agreed on mutual support for technology business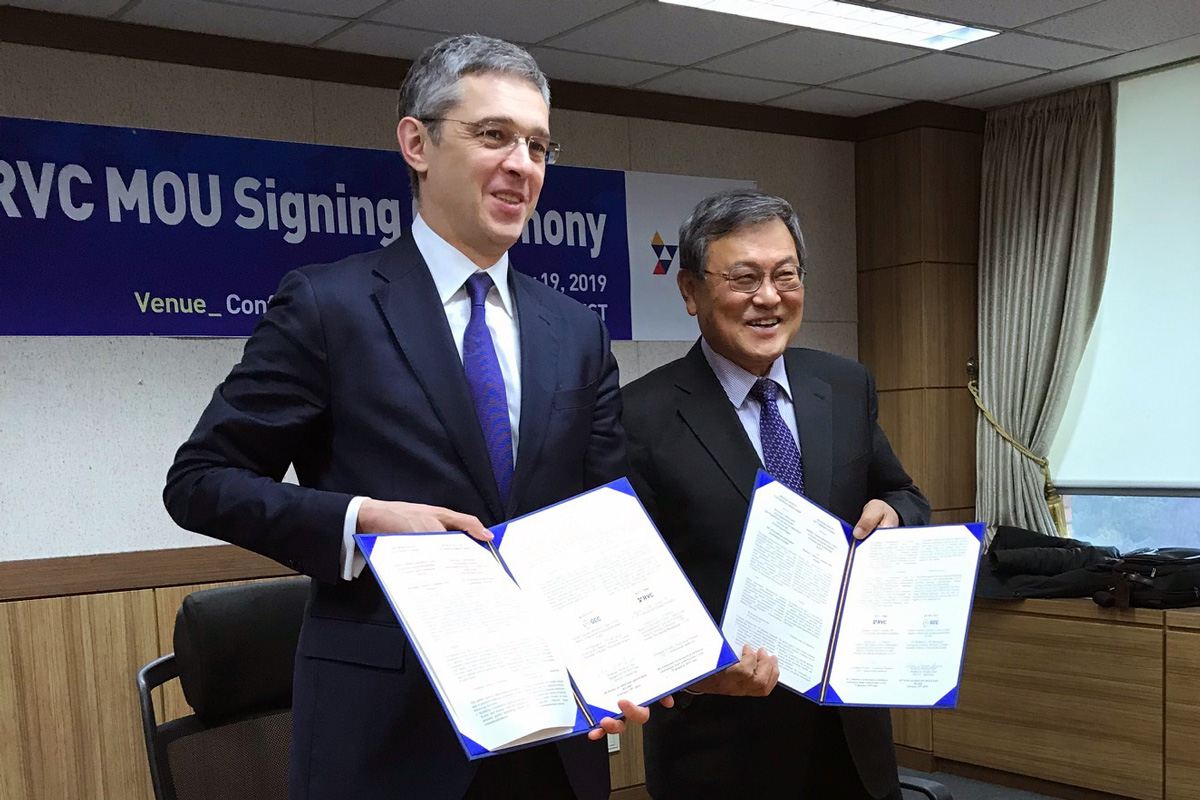 RVC visited the Republic of Korea with a business mission to exchange experience and expand cooperation between the two countries in the field of innovations and commercialization of new technologies. RVC representatives held a series of meetings with leading Korean institutes of development, universities and research centers.
During the business mission RVC signed a Memorandum of Understanding with the Global Commercialization Center at Korea Advanced Institute of Science and Technology (KAIST GCC). KAIST is among the leading universities and research institutes of the Republic of Korea, and it was named 6th most innovative university in the world according to Thomson Reuters. The Center for Global Commercialization (GCC) successfully operates at the KAIST University with a global technology commercialization support system for emerging countries focused on ICT and scientific technology operates in order to assist to the technology transfer in developing countries.
In accordance with the Memorandum of Understanding, RVC plans to use the experience of KAIST GCC for the export promotion of Russian technology companies, including companies of the NTI Export Accelerator launched in 2018. The KAIST GCC will make a contribution to the development of global technological barriers for the future Up Great technology contests. In addition, RVC and KAIST GCC plan to develop bilateral cooperation between Korean and Russian research institutes and technology companies.
RVC delegation met with the Ministry of Science and ICT of the Republic of Korea. The parties discussed the implementation of projects within the Russian-Korean Innovation Platform, founded in 2018 by the Ministry of Economic Development of the Russian Federation and the Ministry of Science and ICT of the Republic of Korea. The platform is aimed at developing entrepreneurship focused on Industry 4.0 by integration of Russian fundamental science and technologies with Korean applied ICT solutions. RVC introduced the Korean partners with the Industry 4.0 development vision in Russia, including the capabilities of the relevant NTI Centers of Competences and companies of the NTI Export Accelerator.
RVC also discussed further development of the cooperation with the Korea Institute for Advancement of Technology (KIAT) and the Science and Technology Policy Institute (STEPI).
"Solving the task of development of the export potential of Russian high-tech companies, RVC pays special attention to the Asian countries markets. In the Republic of Korea, we see prospects for alliances in the areas of scientific infrastructure development, technology transfer, and the promotion of venture business. The business mission resulted in agreements on specific partnerships in the priority areas of the NTI, including the implementation of the Up Great technology contests and the development of export mechanisms," said Alexander Povalko, CEO of RVC.
RVC has been cooperating with the Republic of Korea in the field of innovation since 2014. RVC collaborates with leading Korean development institutions and innovation agencies, universities and corporations, including the Ministry of Trade, industry and Energy, the Korea Techno-Venture Foundation and Samsung R&D Center.

About RVC
The Russian Venture Company (RVC) is a state fund of funds, an institute of development of the venture industry of the Russian Federation. The main objectives of RVC's activities are: stimulating the creation of Russia's own venture investment industry and fulfilling the functions of the Project Office of the National Technological Initiative (NTI). The share capital of RVC JSC is more than RUB 30 billion. 100% of RVC's capital belongs to the Russian Federation represented by the Federal Agency for State Property Management of the Russian Federation (Rosimuschestvo). The total number of funds, formed by RVC, has reached 26, with their total amount at RUB 35.7 billion. The share of RVC is RUB 22.7 billion. The number of innovative companies approved for investment by RVC funds has reached 223. The total volume of financial means approved for investment is RUB 18.2 billion. www.rvc.ru/en
About NTI
The National Technology Initiative (NTI) is a long-term comprehensive program creating conditions for ensuring the leadership of Russian companies in new high-tech markets that will determine the structure of the global economy by 2035. The NTI approved 8 "road maps" for the markets of Aeronet, Autonet, Marinet, Neuronet, Healthnet, Energynet, Technet and the Club Movement; about 500 projects received funding. RVC is the NTI Project Office.
www.nti2035.ru
About KAIST GCC
Global Commercialization Center at Korea Advanced Institute of Science and Technology (KAIST GCC) developed a global technology commercialization support system for emerging countries focusing on ICT and scientific technology fields in order to enhance technology transfer in developing countries. KAIST GCC provides the most effective integrated global commercialization program composed by several phases of commercialization processes such as exploring market's demand, technology transfer, commercialization, education and consulting. KAIST GCC built a global cooperative network between Korea and partner countries with a mission to enable technology transfer and commercialization and provide a search engine with accurate information of ICT market supply, demand, and matching technologies.
gcc.kaist.ac.kr