RVC published the world's first open "winter" dataset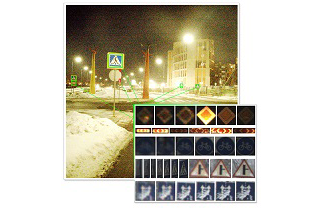 The unique database contains more than 600 thousand images, of which more than 20 thousand pictures obtained under severe weather conditions are manually marked, as well as data from the lidar, making it possible to create a real-time 3D map of the space surrounding the car. The dataset is freely available under the CC BY 4.0 open source license.
The "Winter" dataset was assembled by the team of developers of the laboratory of intelligent space robotics at the Skolkovo Institute of Science and Technology (Skoltech) for the international competition in the field of software for unmanned transport Ice Vision. Its unique feature is its focus on teaching unmanned vehicles to work in the conditions of the Russian winter: under icy conditions, wet snow, with limited and insufficient visibility, oncoming sunlight.
Artyom Pavlov, post-graduate student of Skoltech, head of the Open Skoltech Car project used to collect the Ice Vision dataset
The availability of high-quality and comprehensive datasets is one of the cornerstones in creating modern vision systems. Unfortunately, the existing open datasets in the field of crewless vehicles contain relatively little data collected in winter conditions, thereby depriving developers and researchers of the ability to test their systems in reasonably complex and variable conditions.
The database contains lossless compressed images that form video sequences shot at a frequency of 30Hz on Russian roads in the winter season in different weather conditions and at different times of the day. Video recording was carried out using two colour cameras with a "global shutter" and a resolution of 5 megapixels. The use of cameras with a "global shutter" makes it possible to prevent distortion when shooting moving objects or at high speed, which is particularly essential for visual localization and mapping algorithms.
The dataset also contains data of laser scanning of the area using a three-dimensional 64-channel lidar capable of measuring 2.2 million points per second and data from receivers of Satellite Navigation Systems. The collected information array makes it possible to create a system that accurately determines the location of the car and "sees" the surrounding space in 3D, which allows it to carefully navigate in the current traffic situation and make the right decisions.
Besides, the database contains a manual, that is, made by a living person, mark-up explaining where and what characters are in the frame. The presence of such a mark-up makes it possible to create a system of recognition of road signs, in particular, based on artificial neural networks. This opens the way not only to an automatic semantic mapping of roads but also to the creation of uncrewed vehicles that can move on public roads in compliance with traffic rules without a pre-built detailed map, as well as capable of responding to temporary changes on the streets related, for example, with road works.
Mikhail Antonov, Deputy General Director — Director for Development of Innovation Infrastructure, RVC
Creating your database is almost impossible for young research teams. A published dataset can be a useful tool for any team to train their car to "see" signs and traffic conditions not only in summer but also in winter. Now it can be used by both manufacturers of crewless vehicles and developers of individual solutions for uncrewed vehicles.
---
Information
RVC is a state fund of funds, the development institution of the Russian Federation, one of the essential tools in building its national innovation system. The authorized capital of RVC is more than 30 billion roubles. One hundred percent of the RVC capital belongs to the Russian Federation represented by the Federal Agency for Management of State Property of the Russian Federation (Federal Property Management Agency). The total number of funds formed by RVC has reached 27; their total size is 51.3 billion roubles. The share of RVC is 26.8 billion roubles. The number of innovative companies invested by RVC funds has reached 202. The total volume of invested monetary funds is 17.8 billion roubles.
www.rvc.ru
NITU MISiS is one of the most dynamically developing scientific and educational centres of the country. Being among the leaders of technological education in Russia, NUST MISiS also represents a full-fledged scientific centre. The University occupies a leading position in the world in the subject ratings of THE, QS and ARWU in ten areas at once, entering the top 100 in the categories of Engineering-Mining (QS rating) and Engineering-Metallurgy (ARWU rating), in the field of materials science NITU MISiS is in the group of 101 best universities (QS rating).The strategic goal of NUST MISiS by 2020 is to strengthen leadership in the areas of specialization: materials science, metallurgy and mining, as well as significantly strengthen their positions in the field of bio-, nano- and IT technologies. The university includes nine institutes, six branches — four in Russia and two abroad. More than 17,000 students from 75 countries of the world study at MISiS NITU. The university has more than 30 research laboratories and three world-class engineering centres, in which leading scientists from Russia and the world work. NITU MISiS successfully implements joint projects with major Russian and foreign high-tech companies.
https://misis.ru
The Skolkovo Institute of Science and Technology (Skoltech) is a non-governmental educational and research institute located in Skolkovo (Moscow Region). Created in 2011 with the participation of the Massachusetts Institute of Technology (MIT), Skoltech is preparing new generations of researchers and entrepreneurs, promoting scientific knowledge and promoting technological innovations to solve the most important problems facing Russia and the world. The Institute builds its work based on the best traditions of Russian and international educational and research practices, with a special emphasis on entrepreneurship and innovation. ​
www.skoltech.ru
Up Great — the largest technology contests in terms of the prize pool in Russia. The competition mechanics are modelled on the prestigious international competitions XPrize, Darpa Grand Challenge, etc. Participants are invited to find solutions to the most complex technological problems, which in the world so far have no solutions. The winning team, overcoming the global technological barrier, receives a large cash prize — up to 200 million roubles — for the demonstration of an understandable and repeatable decision of the competition task to experts, the jury, and the public. In 2018, the first Up Great contests started "Winter City" and "The First Element". The operator of technology competitions Up Great is RVC. The co-organizers are ASI and the Skolkovo Foundation.
upgreat.one
Ice Vision is a technology competition in the field of software for crewless vehicles. The competition is aimed at finding new solutions based on artificial intelligence that will allow the drone to improve the quality of recognition of traffic conditions in difficult weather conditions. Ice Vision is part of Up Great technology contests. The co-organizer is one of the leading technical Russian universities of NUST MISiS. For the first time, the participants are given the task of developing an intelligent system for a drone, based on data collected in the conditions of the Russian winter, and this unique "winter" dataset includes at least 20 thousand images. The final stage of the competition will be held in the format of a 48-hour hackfest on the site of the House of Commune of NUST MISiS, a famous architectural monument of the era of constructivism.
icevision.upgreat.one